Low pieces (2009-2011)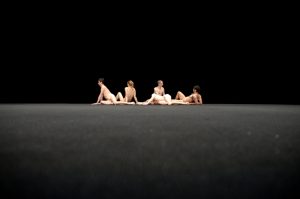 What if opening and closing a show with a conversation was the simplest way to create a link between artists and spectators? For Xavier Le Roy, what is shown is as important, if not less, as the discussions that result from it: all of his pieces offer a basis for reflection. Two moments of exchange between the public and the performers therefore open and close low pieces. The presentation of the movements that these spaces of words frame like mirrors, is disrupted when the dancers, with whom the spectator were talking a few minutes earlier, are found undressed on stage, lying down or on all fours. Are they really the same anyway? How does the perception of both dancers and spectators change? How are they going to recreate a common space?
Faced with these naked bodies, the social image of the dancer having a conversation, present in the eyes of the spectators only a moment before, fades away. Any word that might describe this feeling seems short of or beyond what we are shown. The scene could represent a herd of animals at rest, a pack of lions basking in the sun, a plant composition… These images come one after the other in our imagination. The group of individuals transforms into a group of an undetermined nature, capable of receiving all our projections. Xavier Le Roy thus plays on our senses and once again questions in this creation the way we perceive a body. In rejecting dress codes and removing movement from social habits, he proposes a community released from its humanity to the spectator. Animal? Mechanical? Vegetal? Before our eyes, a series of choreographic landscapes suggests another form of being in the world.
Maxime Fleuriot in Programme du Festival d'Avignon 2011
Galería de imágenes