Solo Me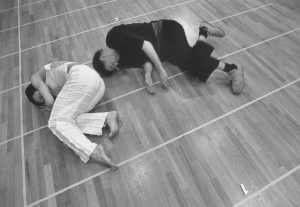 Solo Me es una performance basada en dos solos desarrollados por separado, realizados simultáneamente o como una unidad compuesta. En su Solo in A Major, op. 69, Pravdan Devlahović intenta redefinir el espacio en torno a su cuerpo en relación a la mirada infecta de los espectadores que circundan el espacio de la performance. Pravdan pasea constantemente por el material coreográfico situado en distintos puntos del espacio y así, en el momento en que lo encuentra decide dejarlo para encontrar otro nuevo. Y esto ya no es un comienzo de Nikolina Pristaš creado a partir de la intención de discutir sobre un proceso de auto-inicio. Sus ideas sobre el inicio repetido al definir el movimiento la han llevado a la idea de escribir una frase coreográfica en diferentes fuentes (coreográficas). Las fuentes elegidas han encontrado su colgante corporal en el uso de diferentes perspectivas, estrategias y orientaciones formadas que redefinen diferencias en el resultado afectivo de la frase presentada en el inicio.
Reseñas
«[…] and the dancers' informal manner and skill made even complex steps look commonplace. Yet the dancers also commanded attention because they wandered with great concentration and appeared to be enjoying themselves, as if playing their own favorite games in a playground for adults.»
Jack Anderson, The New York Times
«Solo Me follows a line of development begun with performances such as 2three4 or Man.Chair but is, in my opinion, their most courageous attempt at merging dance reflection, its solid structuring and almost metronomic quantification with sensual experience of the dancing itself.»
Nataša Govedić, Novi List
«Movements expand in space, get re-arranged and explored through two different choreographies that eventually get intertwined in the attempt at finding a common denominator. With imposing ease both choreographies set a demand for the esthetics of movement which involves both modern and contemporary dance.
[…] it is absolutely worthwhile to see this performance which comes from a completely different corner of Europe and distinguishes itself from anything we can see at home.»
Silje Birgitte Folkedal, BA/Norway
"The most striking characteristic of "Solo Me" is both the dancers' energetic, expressive and very eclectical manner of moving. The dance vocabulary freely flows between movements reminiscent of modern-contemporary dance styles/techniques and movements corporeally personalized to the highest degree. Both dancers/choreographers successfully and at times ironically play with the items of known dance vocabularies but also with their own specific movements and quotations of each other which makes the interplay a very exciting journey to take."
Ivana Đerđ-Đunđerović, Glas Slavonije
Duración: 50 min.
Galería de imágenes